Alright!! This in the Hard mode as i Promise!!
Name: Beggining
Situation: Flak forces closing in!! Can you defeat him?
Difficulty:****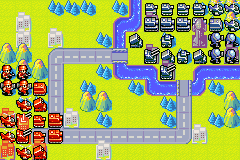 to prevent the lack of clarity about the unit, click below (sorry if my english is not good)
https://i.servimg.com/u/f30/15/50/63/17/vs_1_b13.png
in those picture, the buildings become transparent, so you can clearly see that the unit should be in this map
Orange Star CO: Andy
Black Hole CO : Flak
You play Orange Star
Conditions:
Fog:Off
Weather: Clear
Funds: 1000
Turn: Off
Capt: Off
Power: On
You Lose If:
All of your units Have been Routed
Challenge: Beat This map in Day 6!!
Note: This Map is very hard!!!!!! you must be careful in playing this map!!