Well, I made a new map based on Final Front (Final map on AW2 campaign). Here it is: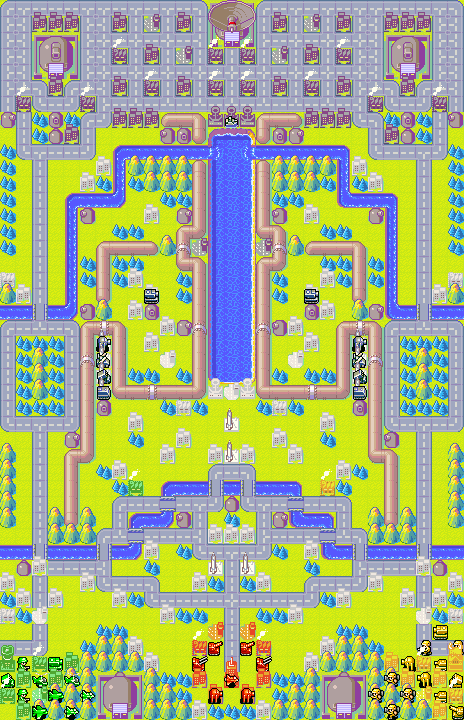 This is it. It may look like if Black Hole (Sturm, who wasn't finally dead) is overpowered, but I'll try to explain it. (Sorry for the mistakes, english is not my first language).
Note: It's supposed to be a campaign map, so you would play with Orange Star, Green Earth and Yellow Comet against Black Hole. As it's AW2 based, Black Hole (CPU) will not destroy any pipe joints (Destroyable pipe sections, IDK the name), and of course won't destroy any laser, mini cannon, black cannon, etc... So all the starting Black Hole ground units are kinda jailed where they start.
*** Final Front: Revenge ***
Destroy the laser in the up-mid part to defeat Sturm.
Orange Star: Max/Andy/Sami/Hachi/Nell (Andy recommended)
Green Earth: Eagle/Drake/Jess (Eagle recommended)
Yellow Comet: Kanbei, Sonja, Sensei (Kanbei recommended)
Black Hole: Sturm
The laser will shoot every 14 days. No time limit (Infinite turns available)
As I'm bored, here is something similar to a guide:
First of all, the 2 black cannons may and must be destroyed with rockets from the Orange Star part, but not from Green Earth or Yellow Comet. That's the first thing we must do if we want to have any chance. Notice that GE and YC can capture 2 cities, an airport and a base while OS blow the black cannons down. After destroying them, send all the armies and gain control of the mid-map. Stay there until you have founds enough to attack BH base. Don't try sending a bomber because chances of destroying the laser are -10%.
Extra things about the map:
- The upper rivers are strategically located for not letting Sturm to get on the cities with every kind of ground units, just infantry or mechs.
- I made it hard to get to the laser with ground units. The only way for that is using landers or by the sidesof the map.
- Grit, Olaf or Colin are not available for that mission.
- Sturm is not affected by any cannon/laser.
- There are 12 silos. Use them carefully.
That's pretty much it. I hope you liked the map. IDK if it's easy, medium or impossible, but I think it would be hard because all the BH starting income and buildings.
But I'm sure there would be a way to get to the laser with a bomber avoiding everything xD. Anyway, enjoy the view, and think how would be playing against another AW human player. (Destroying pipe joints, liberating the starting ground units, looking for the silos u.U)
Thank you for reading. Comments would be appreciated.
Edit: Oooops, I think it would be in Mixed-Maps category. Sorry for the inconvenience.